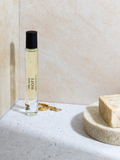 Hope Eau De Parfume Rollerball
ONE SEED
by ONE SEED
Using all-natural ingredients with at least 80% organic content, ONE SEED perfumes are gentle on both the skin and the environment - just as they should be.


A walk through the damp woods at daybreak, full of promise, the light catching on violets in the brush. Stillness and appreciation on a misty morning. Soulfulness. Overcome by emotion at nature's beauty. A sweeping landscape of wonder and hope.
FRAGRANCE NOTES
Blonde woods, bergamot, violet petals, mimosa, frankincense, orris root.

• 9ml / 0.27 fl oz
• 100% natural. 84.44% certified organic. (25.56% organic fragrance ingredients).

FULL INGREDIENTS LIST
NCI: Natural ethanol from sugar cane* (ethyl alcohol), 100% natural fragrance blend (parfum) (extracts from Santalum spicata (Australian sandalwood) oil*, Citrus aurantium bergamia (bergamot) oil *, Juniperus Virginiana (Cedarwood) Wood Oil *, Citrus aurantium bergamia (bergamot)* oil , ionone alpha natural natural isolate, Dipteryx odorata (tonka bean) extract, Boswellia Carteri (frankincense)* oil, veratryl aldehyde natural isolate, Mimosa Flowers Olessence Natural, Ionone beta natural, Iris pallida (orris) root extract, Hibiscus abelmoschus (ambrette) flower extract, Anthemis nobilis (chamomile)* flower extract), distilled water (aqua).

ALLERGENS
limonene, linalool, citral, farnsenol, citral, linalool, limonene, coumarin, benzyl alcohol, eugenol.

*Please note, this item is final sale.*