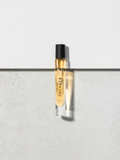 Dreamer Eau De Parfume Rollerball
ONE SEED
by ONE SEED
Using all-natural ingredients with at least 80% organic content, ONE SEED perfumes are gentle on both the skin and the environment - just as they should be.


Orange blossoms unfurl their petals towards the sky, the quiet hours of morn, full of reverie. Burnt fig and heartwarming ginger. Round, dewy stone fruits in the height of summer. Sweet tangerine dreams.

FRAGRANCE NOTES
Orange blossom, tangerine, mimosa, stonefruits, pink peppercorn, ginger, fig.

• 9ml / 0.29 fl oz
• 100% natural. 81.5% certified organic ingredients. 

FULL INGREDIENTS LIST
Natural ethanol from sugar cane* (ethyl alcohol), 100% natural fragrance blend (parfum) (extracts from citrus paradisi (red grapefruit) peel, Citrus Reticulata (Tangerine) Peel Oil, Schinus molle (pink pepper) berry extract, Zingiber Officinale (Ginger) Root Oil, Citrus Aurantium Amara (Neroli) Flower Oil, Mimosa Flowers Olessence Natural, Citrus Aurantium (Orange Blossom) Flower Extract *, Ionone beta natural , Rosa Damascena (Rose) Flower Oil, Salvia Sclarea (clary sage) oil, Daucus Carota (Carrot) Seed Oil, geranyl acetate natural, maltol natural, dodecalactone gamma, apricot essence (compound natural isolate) benzyl benzoate natural isolate, vanillin natural, Iris pallida (iris) root extract, Nerolidol natural isolate, Prunus Armeniaca (Bitter Almond) Kernel Oil, Anthemis nobilis (Roman Chamomile) oil), distilled water (aqua).

ALLERGENS
Citral, limonene, geraniol, linalool, farsenol, citronellal, eugenol, carvone benzyl aldehyde, benzyl alcohol, trans-cinnamaldehyde. 
*Please note, this item is final sale.*  
Nice Perfume
It's a gift for my daughter. It smells lovely.
Unique feminine scent
Slightly floral, slightly citrus, unique and very fresh. Love this perfume!